About The Basement Systems Network
Serving Canada, the United States, and the United Kingdom Since 1987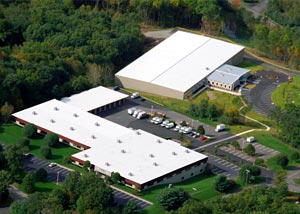 Aerial view of the Basement Systems, Inc. International Headquarters.
Our corporate campus consists of a 92,000 square foot facility, divided among two buildings in Seymour, CT.
Basement Systems, Inc. is a network of more than 300 basement and crawl space contractors, serving throughout Canada, the United States, and the United Kingdom.
Originally launched in 1987, this network is comprised of locally owned and operated companies that are united under the common goal of creating drier, healthier, and more energy-efficient spaces for homeowners looking to repair or upgrade their basement or crawl space.
Each Basement Systems Dealer works within the network as a member of a co-op, sharing their knowledge, experience and best practices with dealers from all over the world.
At the headquarters, we provide dealers with training, certification testing, and services from our full-time Research and Development office. We also provide support for dealerships, as well as exclusive access to our award-winning, patented products.
Schedule A FREE Estimate
Your local Basement Systems Dealer has the training, experience, and professional products that you need to dry and upgrade your basement or crawl space -- permanently!
For a free basement waterproofing quote, contact us by phone or e-mail today! We'll put you in touch with your local dealer, who can send a trained specialist to provide an expert inspection and cost quote for you!
In Canada, our experts serve throughout the provinces of Alberta, British Columbia, Manitoba, New Brunswick, Nova Scotia, Ontario, Prince Edward Island, Quebec, Saskatchewan, And Yukon. Our customer service specialists can locate and connect you with the dealer serving your area.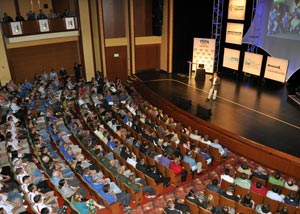 Basement Systems' Annual Dealer Convention had a turnout of more than 800 industry professionals in 2011.
Each convention is packed with on-site trainings, product unveilings, and networking opportunities. The last day of convention wraps up at the Bushnell Theater with speeches, achievement awards, presentations, and a motivational guest speaker.
Previous speakers have included astronaut Jerry Linenger, and NBA basketball Hall-of-Famer Bill Walton, as well as acclaimed motivational speakers Nick Vujicic, Liz Murray of "Homeless to Harvard", Les Brown, and Brian Tracy.
Reliable Local Contractors
Basement Systems maintains high standards and expectations for the dealers in our network. Each dealer is carefully hand-picked from accomplished, reputable, and well-established local companies.
Each dealer has proven themselves to be highly qualified experts within their local industry, who specialize in basement and crawl space environments as their core service area.
Network Training & Support For Dealers
As members, Basement Systems Dealers benefit from our free, year-round trainings that are provided at our headquarters.
These trainings are run by our in-house experts and focus on every aspect of the industry, including customer service, sales, best practices for installation, system maintenance, and much more. Dealers are also provided with Certification Testing opportunities upon the completion of each training.
Along with our fully staffed Research and Development Department and our training teams, our headquarters is also the home of our expert team of Dealer Support Specialists.
This team of highly qualified industry experts are standing by every day to provide expert advice to dealers, providing professional recommendations on some of the unique and rare challenges that dealers face as they repair crawl spaces all over the world.
How We Changed The Crawl Space Industry Forever
CleanSpace®, Inc., a division of the Basement Systems Network, has led a revolution in the crawl space industry since its launching in 2001. By successfully sealing, drying, and repairing thousands upon thousands of crawl spaces worldwide, the network has proven that crawl space ventilation simply does not work, and can actually increase the levels of humidity, mold, wood rot, and pest infestations in crawl spaces.
As the network continues to prove the success of our crawl space systems again and again, building codes are changing, and homes are becoming more healthy and energy efficient than ever. (Who wants cold winter air venting into their crawl space?) We calculate that since 2007, our network saves homeowners more than 4.6 million dollars in natural gas, electricity, and heating oil each year!
Due to the high standards that Basement Systems, Inc. has upheld, we've been recognized by the Better Business Bureau multiple times for our achievements in the field. Among others, Basement Systems was awarded the BBB Marketplace Ethics Award in 1999, 2003 and 2007, the BBB Consumer Education Award, in 2000, 2003, and 2004, and the Quality Award in 2000.
Complete Solutions For Your Basement
We do more than just fix wet basements! Our basement contractors offer many solutions and upgrades for a wide variety of issues for any below-grade space.
Our basement services include all of the following:
Basement Waterproofing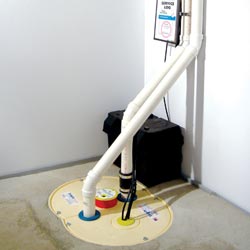 Each of our dealers has access to a wide variety of products designed to waterproof any basement.
Our patented, award-wining products include five different basement drain systems, two award-winning sump pump systems, and innovative solutions for the most common causes of plumbing failure.
Our systems are installed with a lifetime written warranty -- one that's transferable to the next homeowner. This provides you with a great edge when selling your home!
When waterproofing your home, we'll send along an experienced crew of specialists, who can usually install a complete system in your home in less than two days.
More about our Basement Waterproofing Services
Moisture & Humidity Control
Even when a basement is waterproofed, humidity can still find its way through the concrete walls and floors, adding to the humidity levels in your basement.
This means that while your basement is not experiencing flooding, it's still musty and damp. This is an ideal environment for mold, mildew, and rot.
Our Sanidry™ XP Dehumidifier is the solution! This system is Energy Star Rated, and powerful enough to keep dry air circulating throughout your basement.
For finished basements, our system can be stored in a closet or utility area, with digital controls that can be adjusted from the comfort of your finished space.
More about our Basement Dehumidifier System
Basement Wall Products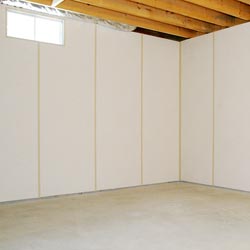 Once your basement is dry, you have an entire floor of usable space in your home -- one that can be finished into new living space.
Even if you're not planning on finishing your basement, you might want to simply upgrade the space by covering those damp concrete walls with something brighter and more cheerful to look at.
Your local Basement Systems Dealer can insulate your basement walls with and prepare them to accept a finished wall panel.
We also have a wide variety of products that can seal your walls, improve their appearance, and make your home more energy efficient.
More on our Basement Wall Products
Basement Flooring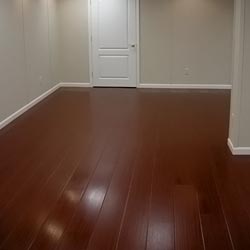 Concrete basement floors are well-known to be cold, hard, and ugly. Whether you're finished your basement, or you just want to have a brighter, more attractive surface when accessing the space, your dealer has a wide selection of options for you.
From simulated wood to tile, carpet, and parquet designs, we have a wide variety of floor systems that are designed specifically to be placed on a cold, sometimes damp basement floor.
Alternatively, if you have your heart set on a custom flooring design, we can install a floor matting system that's waterproof and will create a vapor barrier on your basement floor. Now you can install that custom carpeting with confidence!
More on our Basement Flooring Products
Basement Window Products
Basement windows are a great way to add bring natural light into your home. However, if your windows are old and rusty, are leaking, or are showing a view of an dirty, rusty window well, they're not doing their job.
Your local Basement Systems Dealer can provide you with many options for upgrading your basement windows, including energy efficient vinyl replacement windows, as well as our covered window well systems.
If you're finished your basement and are in need of egress window wells, we have an excellent solution for you. Our RockWell™ Egress Window Well provides a safe, secure, and durable solution for your finished space. A covered lid keeps out wind, leaves, and water, while its bright design maximizes available lighting.
More on our Basement Window Products
Free, No-Obligation Cost Quotes By Certified Professionals
As part of the professional services we offer, each of our dealers offers free written quotes for all proposed repairs and upgrades offered.
Each free quote includes a professional, on-site inspection and measurement of your basement or crawl space. Your system expert will answer any questions you have, and map out your space on our innovative software. We'll take you shopping through our selection of more than 50 exclusive products, explaining the options and making recommendations.
As an added courtesy, your local dealer will also mail along a full-color copy of our free waterproofing book. This 90-page, full-color book provides a powerful research tool -- one that's filled with photos, case studies, and information about waterproofing. You'll also find details and photos related to all our products and services.
Don't wait to transform your basement or crawl space into a healthier, more valuable space! Contact us by phone or e-mail today!
Looking for a price? Get a no cost, no obligation free estimate.